5 Advantages Of Titanium Frames
Titanium is a transition metal that is often used in the production of eyeglass frames. Titanium metal is high strength and low density.
While titanium frames can cost more than some materials like plastic, wood, or other metals, some clear advantages can make it worth the investment.
In this article, we will explore the types of titanium available and their benefits. Hopefully, by the end of this article, you will be able to determine whether these benefits coincide with what you are looking for in your next pair of glasses.
Regarding eyewear, titanium eyeglasses have become increasingly popular due to their durability and lightweight construction.
There are different types of titanium eye frames available, each with their own unique features. The standard titanium frame is made from pure titanium and offers excellent corrosion resistance and strength.
Beta-titanium eyeglasses, on the other hand, are made from a titanium and copper alloy and are more flexible which allows for a more snug fit.
Hightech-Titanium SPX®+ frames combine the durability of titanium with the flexibility of polymer, resulting in a highly resilient and comfortable frame.
Shop around and do your research to discover which frame will be the most comfortable for you.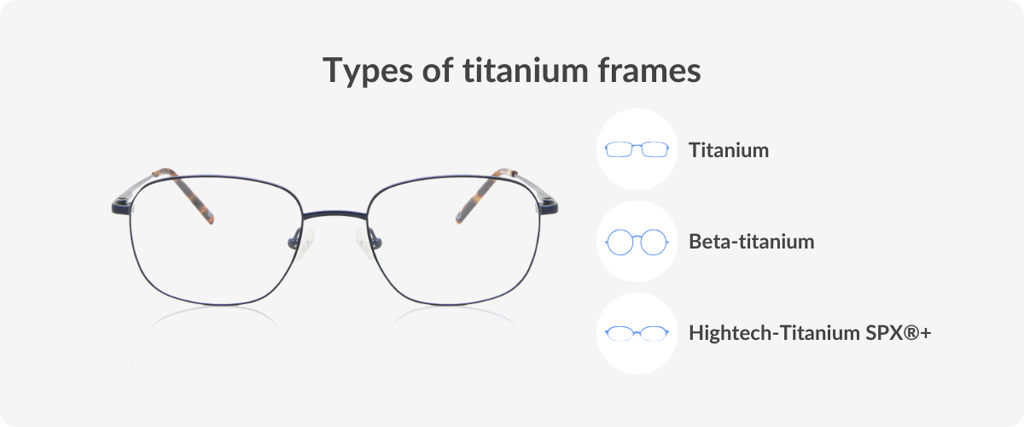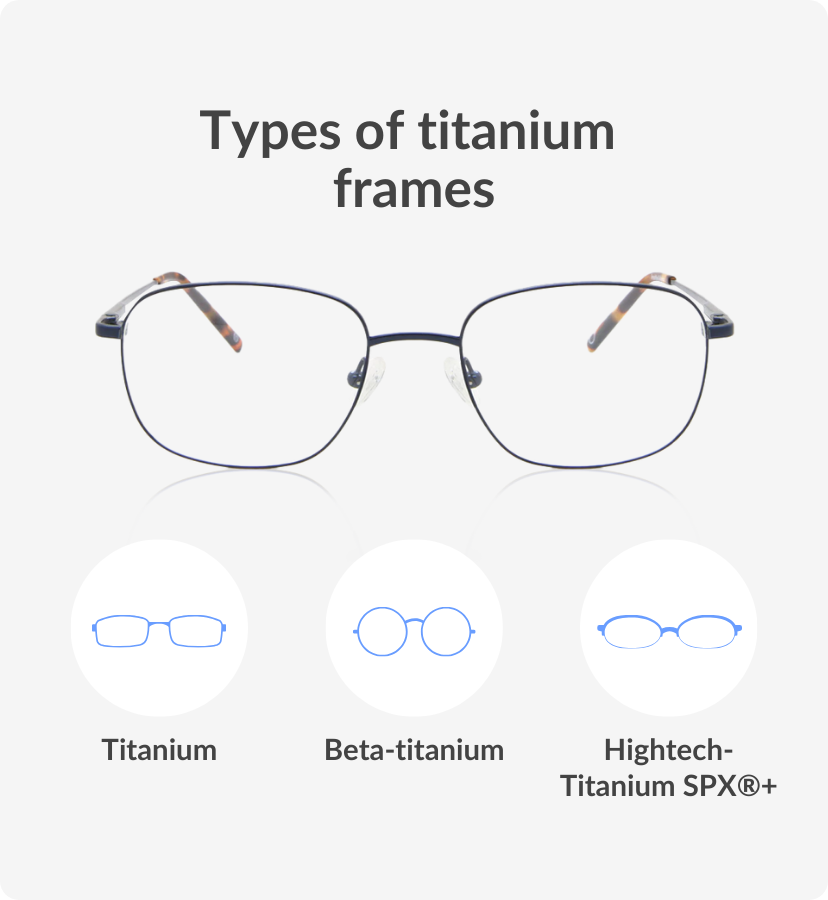 What are the advantages of titanium frames?
For those who wear glasses, it can be tough finding the perfect pair. Between fashion and functionality, there's a lot to consider. Fortunately, titanium eyewear offers the best of both worlds.
Notably, titanium is known for its superior durability, making it an excellent investment for anyone who wants glasses to last for many years.
Titanium metal is extremely strong and that's what makes titanium eyewear last longer than others.
Titanium eyeglasses frames can withstand more wear and tear than average glasses, which means your investment could be saving you money in the long run.
If you're somebody that is typically rougher with your glasses than others, you should consider titanium glasses frames.
Titanium is also well-suited to hip replacements and tooth implants!
While titanium metal is very strong, you wouldn't know it just by feeling it.
This is because titanium metal has a low density, giving titanium glasses frames their lightweight quality. This feature also makes titanium glasses a good option for anyone with higher prescriptions.
Those with higher prescriptions have thicker lenses which can be heavy and uncomfortable if paired with the wrong frame. Opting for a lightweight frame can help not to add any extra weight.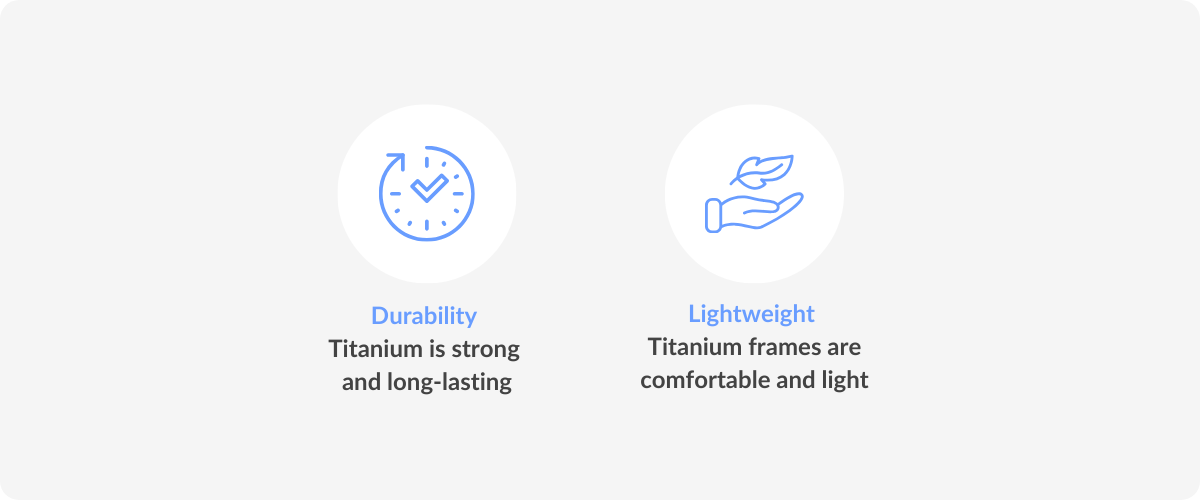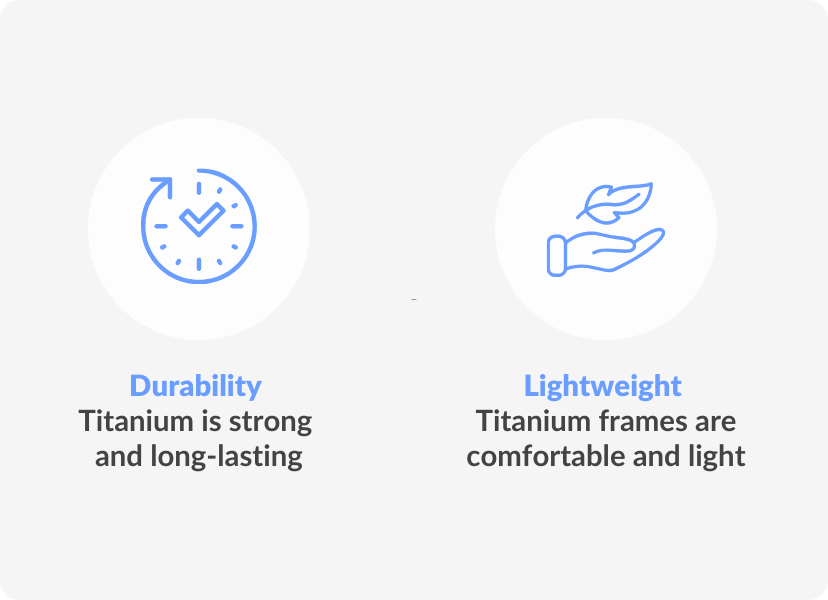 While many people prefer metal frames to plastic, metal can rust over time, especially when in contact with water.
Titanium metal, on the other hand, is rust-resistant. With titanium glasses, you won't have to worry about moisture corroding your frames.
If you have sensitive skin or are bothered by most eyeglass frame materials, then titanium glasses may be the right choice for you.
Titanium is hypoallergenic meaning it will not cause you any negative skin reactions.
Wearing glasses shouldn't cause you any irritation. Consider making choices in line with your comfort when shopping for eyewear.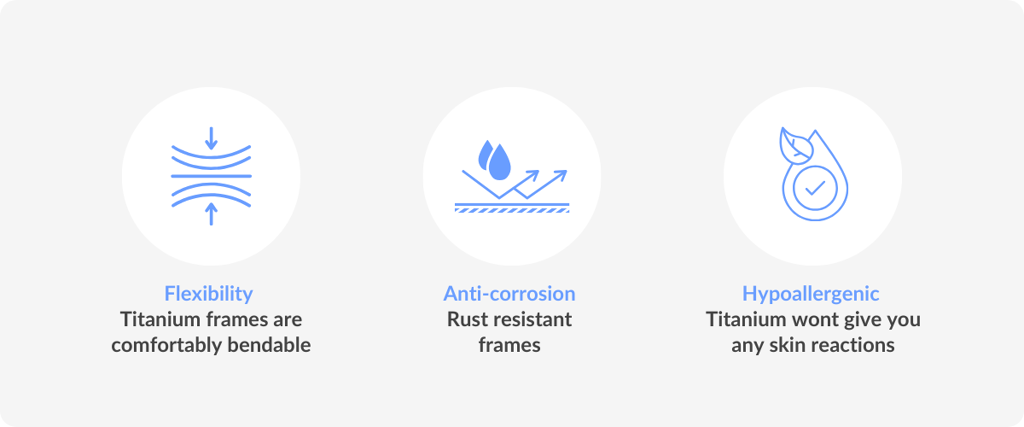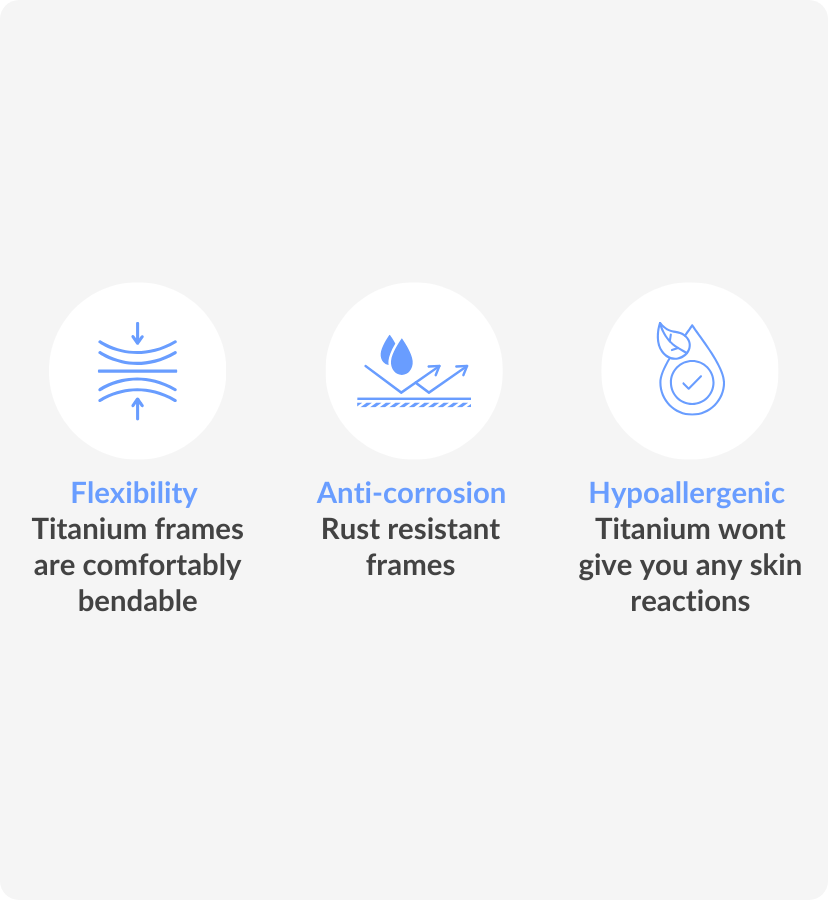 Why are titanium frame glasses more expensive?
Titanium frame glasses are known for their strength, durability and flexibility.
But have you ever wondered why they come with a heftier price tag than their counterparts made of other materials? The answer lies in the manufacturing process.
Creating titanium eyewear is a complex process, requiring specialised machinery and skilled craftsmanship.
This results in higher production costs that inevitably get passed down to the consumer.
However, it's worth noting that owning a pair of titanium frame glasses is an investment in quality eyewear that will last you for years to come.
Are titanium glasses right for me?
Titanium glasses may be the perfect solution for you if you're looking for a lightweight, durable and comfortable pair of eyeglasses.
This material is known for its strength and flexibility, making it an excellent choice for those who lead an active lifestyle. 
And remember, shopping for titanium frames can also be fun – they come in a variety of stylish shapes and colours to choose from, including rimless titanium glasses.
If you determine they are right for your lifestyle, find a pair that suits your fashion sense and personal taste. You can then visit our Lens Hub for information about the right lens materials for you.