What Causes Bloodshot Eyes?
Bloodshot eyes can be a symptom of some quite serious eye conditions, or just a mild irritation. Find out what's responsible in your case and how you can remedy it.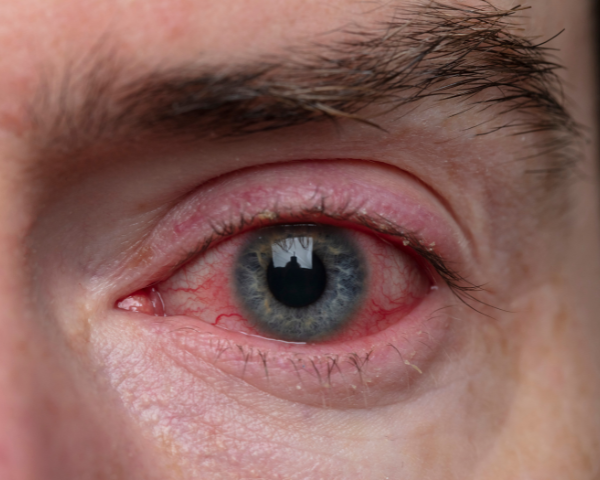 Do you have sore, irritated, red eyes? Bloodshot eyes, also known as red eyes, can often look worse than they feel and usually go away on their own. The redness occurs when tiny blood vessels under the eye get larger or become inflamed from something irritating your eye.
Read on to learn more about this common reaction and the main symptoms, causes, and best solutions to help treat bloodshot eyes.
What do bloodshot eyes look like?
What causes bloodshot eyes?
Red-eye has many different causes. Sometimes it might be that you have left your contact lenses in too long, lack of sleep, or have bloodshot eyes from computer usage. Other primary causes of bloodshot eyes are allergies, Blepharitis (inflamed eyelid), conjunctivitis (pink eye), dry eye, or glaucoma.
A more severe cause of bloodshot eyes is high blood pressure, but typically there is simply something external irritating your eye. Other causes are inflammation in the middle part of your eye or a blood vessel in your eye that can break from rubbing your eyes too hard. Finally, you may also have an eye injury, corneal ulcers, angle-closure glaucoma, or eyelid stye
Read below to find out how to treat bloodshot eyes depending on the cause.
Bloodshot eyes alone are usually nothing to worry about. If combined with pain, light sensitivity,mucus or other factors, it's best to consult an eye doctor.
How to get rid of bloodshot eyes?
Once you have determined the cause of your bloodshot eyes, you can often treat your bloodshot eyes from home or with over-the-counter treatments.
Bloodshot eyes from allergies
Pollen, certain foods, dust, and other foreign substances can cause bloodshot eyes and an itchy sensation. If you think your eyes are red due to allergies, you can take antihistamine eye drops from your local pharmacy.
Cool compresses or washcloths on your closed eyes can also provide some relief. We also recommend washing your hands frequently to prevent these allergens from entering your eye if you rub them.
Bloodshot eyes from computer
If you spend a significant amount of time staring at digital screens, then investing in some blue light glasses can help. Wearing these frames while using electronics will help reduce eye irritability, strain, headaches, and sleep issues by blocking the harmful blue light.
Bloodshot eyes from dry eye
When your tears don't lubricate your eyes correctly, they become dry, leading to red and irritated eyes. This can happen when the eyes don't make enough tears so your eye is not lubricated or nourished, causing dryness.
To soothe dry eyes, try over-the-counter eye drops designed to lubricate them. If this does not help, we advise contacting your doctor or optician for alternative treatment.
Bloodshot eyes from contact lenses
If your contact lenses are irritating your eyes and causing inflammation, you need to give your eyes a break from wearing contacts. However, if the issue persists, we recommend switching contact lens brands or wearing glasses more often. This is because you may react to the contact lens material itself or the solution used to clean the lenses.
SmartBuyGlasses has a range of prescription glasses for you to choose from if you need a new pair of glasses. In the meantime, you can also try some anti-inflammatory eye drops to ease the irritation.
Bloodshot eyes from blepharitis
Blepharitis is an eyelid inflammation and a common cause of sore red eyelids or crusty eyelashes. The most effective treatment is over-the-counter lid scrubs. If you suspect you have Blepharitis.
Bloodshot eyes from uveitis
If you have inflammation in the middle of your eye, which can lead to eye redness, you may have Uveitis. Other symptoms can include blurred vision, eye pain, eye floaters, and sensitivity to light. You must seek medical help to get treatment if you have these symptoms.
Bloodshot eyes from corneal ulcers 
Corneal ulcers are ulcers, or sores, that affect the outer part of your eye, called the cornea. Along with bloodshot eyes, you may feel like there is something in your eye, pus discharge, sensitivity to light, increased tearing, and severe eye pain. If this is the case, you must seek timely medical attention as ulcers can permanently damage your eye.
Other bloodshot eye treatments
How long does it take for bloodshot eyes to go away?
The severity and cause of bloodshot eyes can impact the duration. A burst blood vessel typically lasts only seven to ten days, but if the redness persists, you must seek medical attention. If you continue to be exposed to an allergen or keep wearing your contact lenses, your bloodshot eyes will stay longer. This is why it is crucial to identify the cause.
Can bloodshot eyes be serious?
Bloodshot eyes are a widespread eye problem that is caused by many factors and should go away within a week. If your red eye persists, book an appointment with your doctor to get your eyes checked, as it is likely an eye infection.
When in doubt, always contact your optician or doctor to receive the best advice on how to maintain eye health.