Carbon Fibre Glasses- What our Experts Want You to Know
Carbon fibre glasses are the most durable frames that will last for years thanks to the innovative material.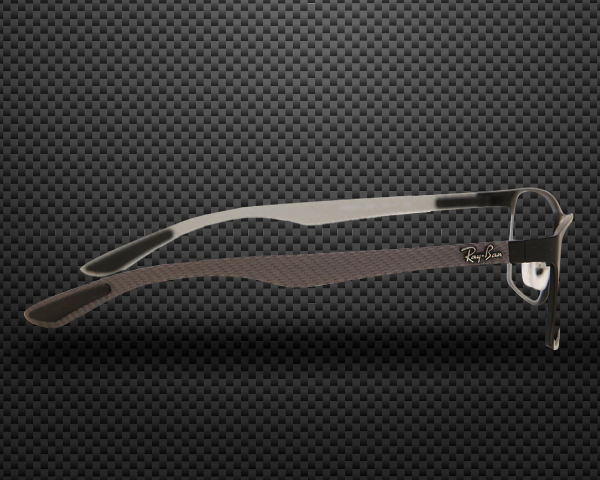 Carbon fibre is synonymous with lightweight, strong, sturdy and luxurious. Gaining popularity in the eyewear industry, carbon fibre frames are becoming more prominent and a top choice among eyeglass wearers. 
In this article, we explore everything to know about carbon fibre glasses, their benefits and what to consider when buying a pair.
What are carbon fibre glasses?
What are carbon fibre glasses?
Also known as black gold, carbon fibre is a modern high-strength fibre that is aesthetically pleasing, exceptionally light, hypoallergenic and highly durable. Brands and manufacturers are beginning to harness its super strength to create high-quality carbon fibre eyeglass frames.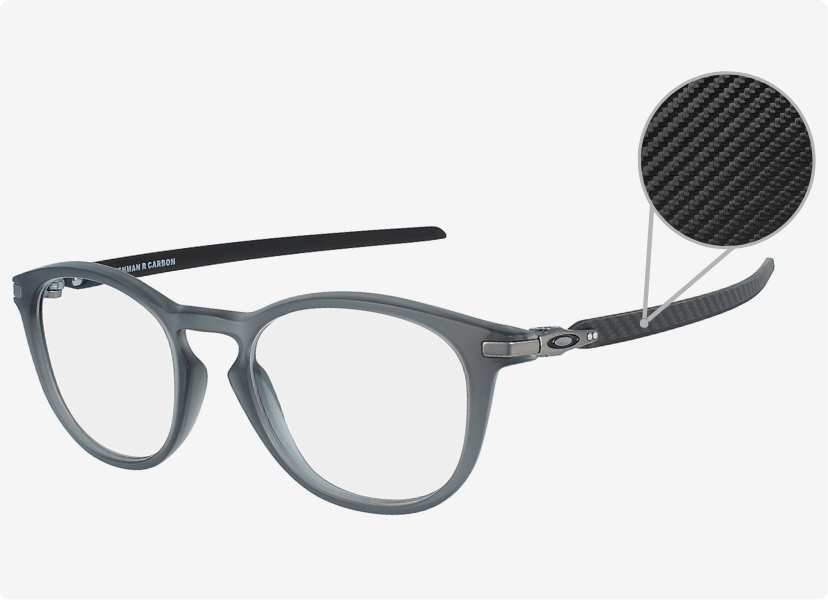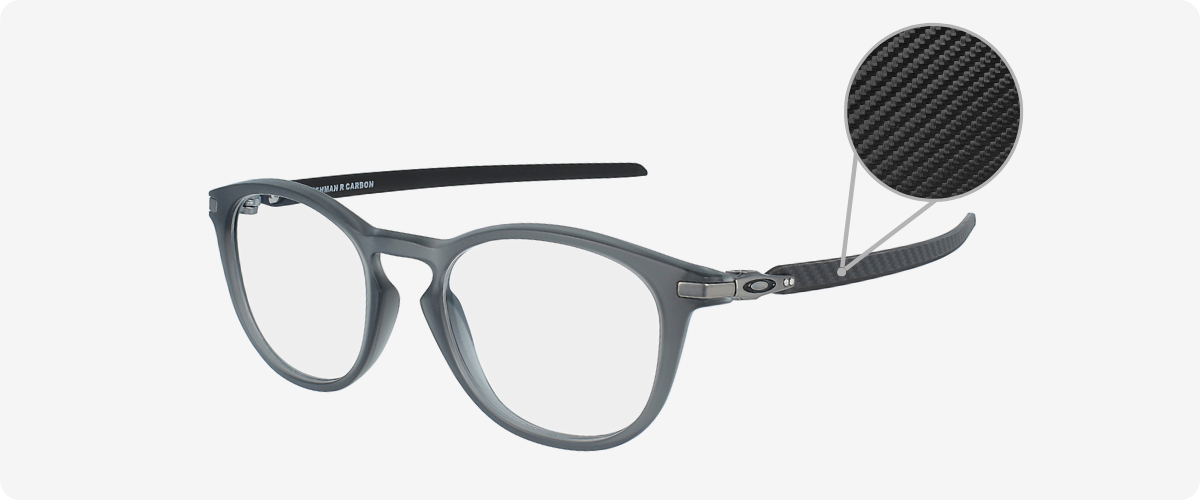 How did carbon fibre come to be?
How did carbon fibre come to be?
In 1879, Thomas Edison filed a patent for carbon filaments for electric lamps. Then, in the early 1960s, military aircrafts required better and lightweight materials. This paved the way for the start of commercial production. 
Carbon fibre was initially used in aeronautics, energy-related equipment, sports materials, buildings and industrial structures, automobiles and even musical instruments. Its rigidity, high strength, low weight and high chemical resistance make carbon fibre popular for eyeglasses and sunglasses.
Properties of carbon fibre
Properties of carbon fibre
Not only does carbon fibre look good, but it's also packed with many benefits. With the higher price tag of anything made from this material, you're not just paying for an aesthetic look but something that will last and withstand nearly all conditions you may face.
Carbon fibre is among the strongest materials on earth, due to the chemical reactions and extreme temperate changes in the manufacturing process. Thus, making carbon fibre glasses the most durable choice there is.
Benefits of carbon fibre glasses
Benefits of carbon fibre glasses
Thanks to the materials' properties, carbon fibre eyeglass frames offer many benefits.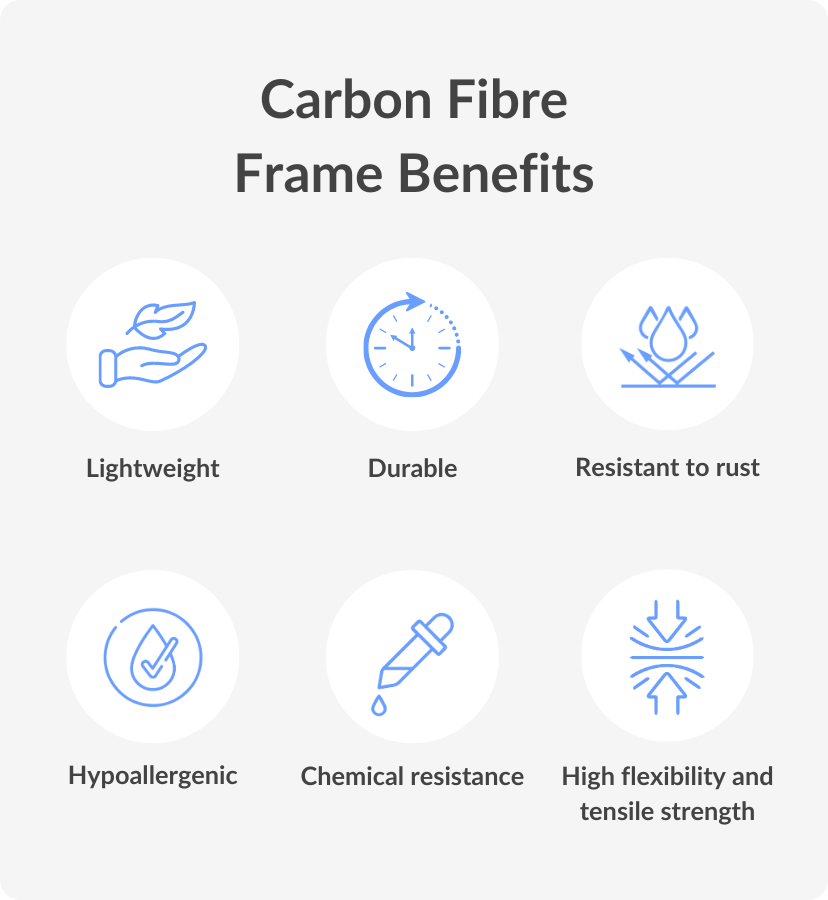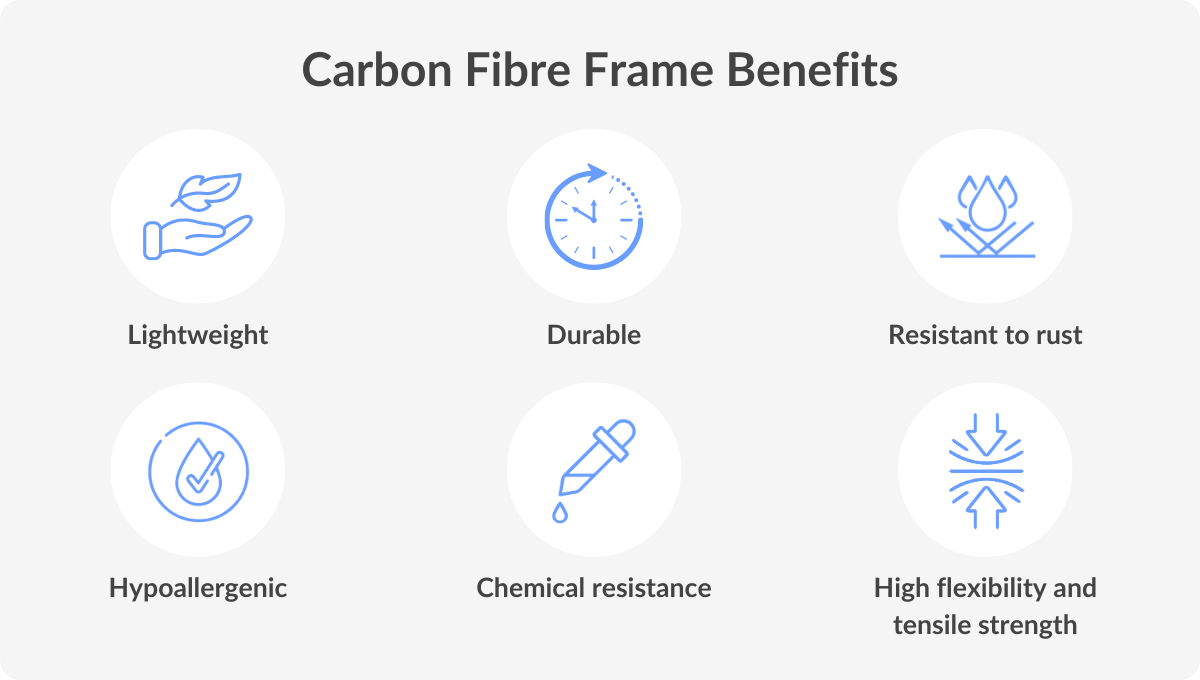 Points to consider when buying carbon fibre glasses
Points to consider when buying carbon fibre glasses
Even with so many benefits, of course, before deciding on a pair of carbon fibre frames, there are a few things you should take into consideration. Carbon fibre is difficult to process as it is such a resilient material. Hence, a few manufacturers can process and produce high-quality and complexly designed carbon fibre eyewear.
As the material is so lightweight, some carbon fibre eyeglasses may be irreparable as the frame is too thin. Consider how other frames can be adjusted before selecting carbon fibre frames. As they can be extremely hard to adjust, it is essential you get the correct size frame you need.
Carbon fibre is expensive, so glasses featuring it as the primary frame material will cost more. However, a pair of hard-wearing glasses can save you from spending more money on replacements in the long run.
What are your choices for carbon fibre glasses?
What are your choices for carbon fibre glasses?
At SmartBuyGlasses, you can find carbon fibre
prescription glasses
and
sunglasses
from top brands in the eyewear industry. Since carbon fibre frames are so lightweight, tough and impact-resistant, they are perfect for outdoor sports and activities.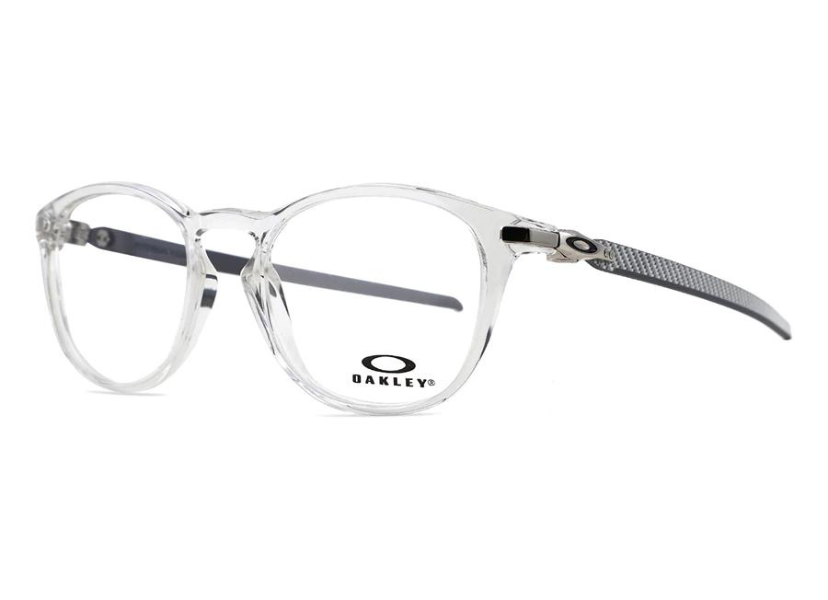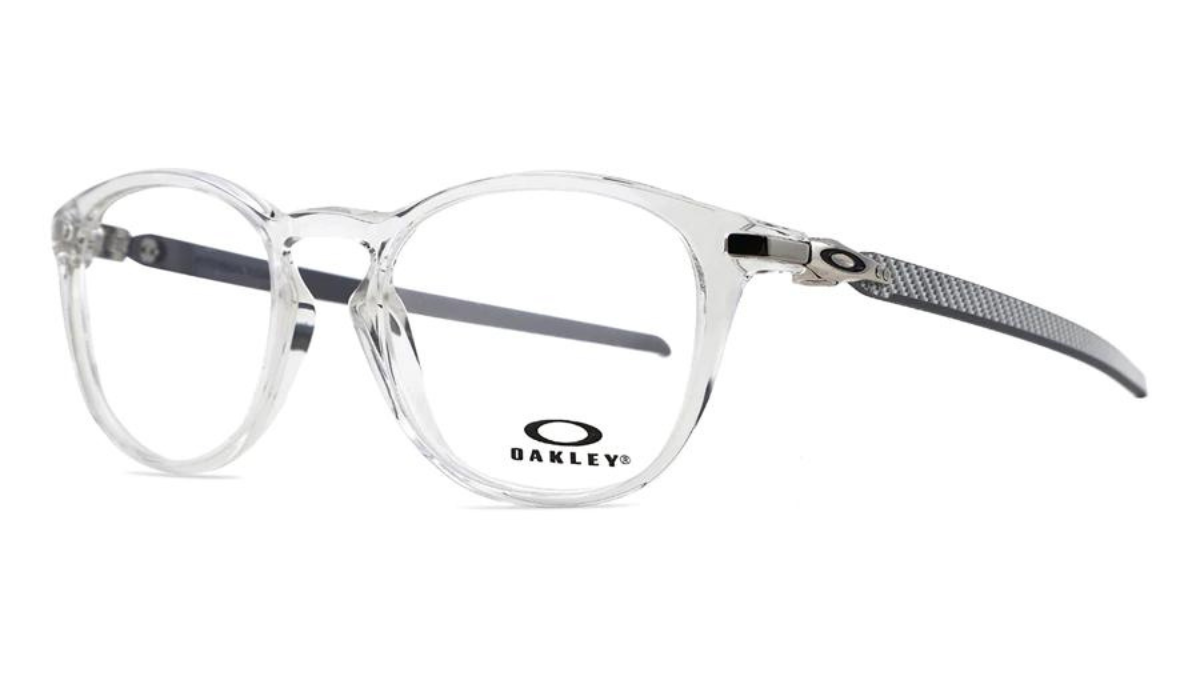 Oakley developed its own line of high-performance carbon fibre glasses that feature ultra-lightweight frames. To further enhance the performance frames, some carbon fibre glasses feature hinges with no screws; instead, they move smoothly as the hinge is riveted to the temples and the hinge itself.
In addition, Oakley developed Unobtainium earsocks that function as grips (initially meant to serve as bike grips) that get better with wet conditions.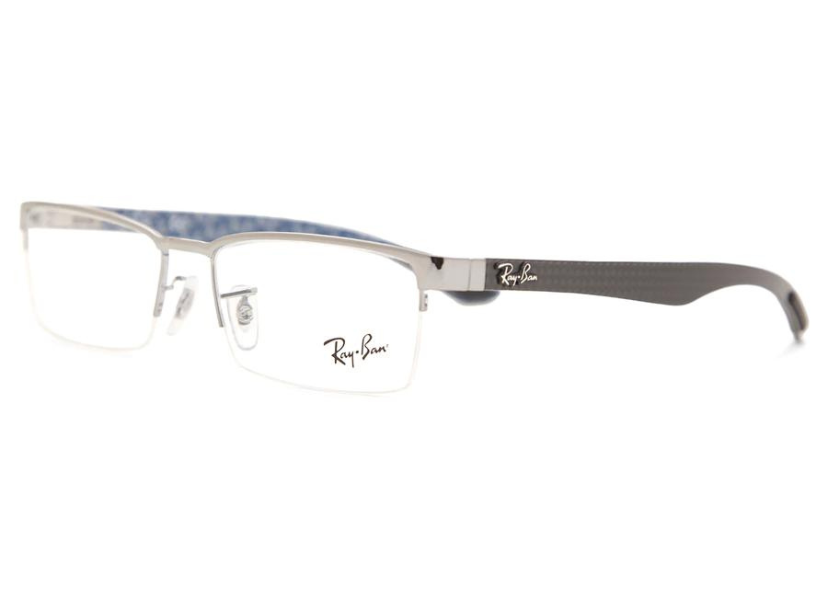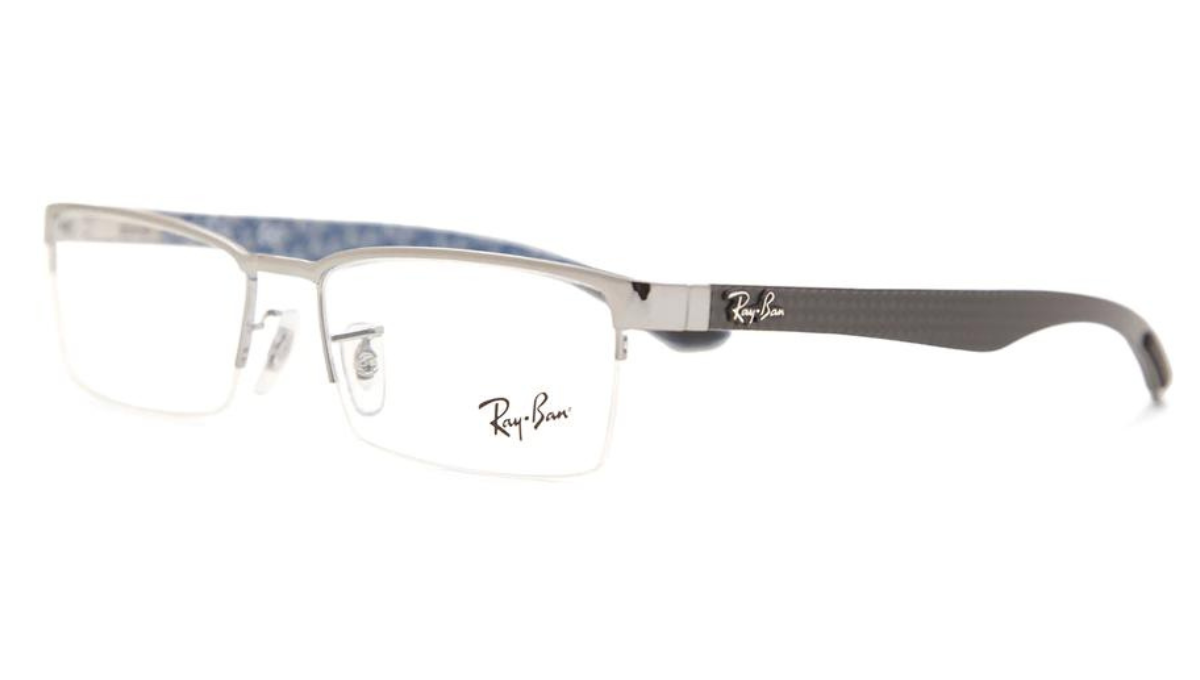 As
Ray-Ban
has always done, the innovation takes a step up with their Tech line of glasses and sunglasses featuring carbon fibre and titanium. The Tech line frames have seven carbon fibre layers mixed with resin and water cut to create the different parts of the frame.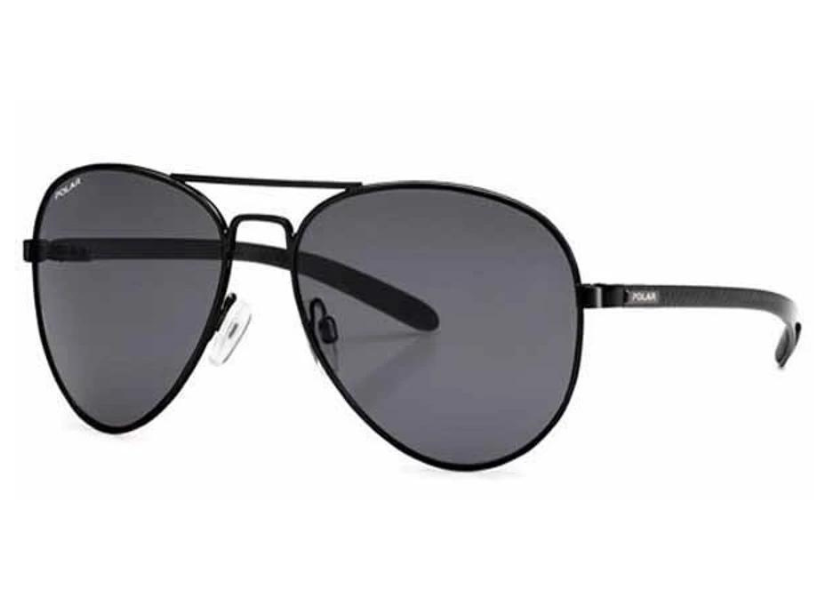 Polar
also saw the benefits of carbon fibre frames and took it a step further to include polarised lenses. Some pairs feature a stainless steel front frame and carbon fibre arms. Combining both materials offers a more affordable price point while still benefiting from the properties of carbon fibre.
Is carbon fibre good for glasses?
Is carbon fibre good for glasses?
Carbon fibre sunglasses and glasses will exceed your expectations if you're looking for a pair of frames that will withstand the toughest conditions and make it through your everyday wear and tear. 
With the higher price point, it's always worth considering if they match your lifestyle and needs. If you're unsure, you can always speak to one of our certified online Opticians, who can answer all of your queries.