Boho-Chic Isabel Marant Sunglasses That Speak To The Soul
Sorry, we could not find the following product IDs in our database: 595269, 595251, 595265. Please check and use correct values.
Boho-Chic Isabel Marant Sunglasses That Speak To The Soul
No need for a magic formula to create a revolutionary fashion style to sweep over the streets of Paris and the world. Isabel Marant has created and transformed the boho-chic style into an interpretation of bohemian and hippie influences. Her inspiration has given the world timeless and natural designs from clothes, shoes to accessories, including her iconic Isabel Marant sunglasses.
A Parisian Tale
Known for her provocative, bohemian, and greatly desired designs and styles, Isabel Marant has been creating clothing lines for women for many years. She prides herself on dressing women for the real world, and never releases an item that she has not tried on herself. 
In 1985, Isabel Marant decided to change her course and adventure into a new chapter: the wondrous world of fashion. From there she worked on many projects with famous brands. In 1989, she launched her collection. Isabel Marant has used her travels, music, and the 80s as the primary inspiration to create her style and taste. 
With stores around the world, Isabel Marant's designs have taken over and have dressed the modern women with unique and comfortable styles. But what is an Isabel Marant outfit without a great pair of luxury Parisian sunglasses or glasses? 

In 2020, Isabel Marant debuted with her eyewear collection that varies from many trendy sunglasses for women and even eyeglasses you can combine with prescription lenses. Taking retro and classic styles and making them her own with bold and transparent colors, the finest craftsmanship and materials, stylish lenses, and protective coatings.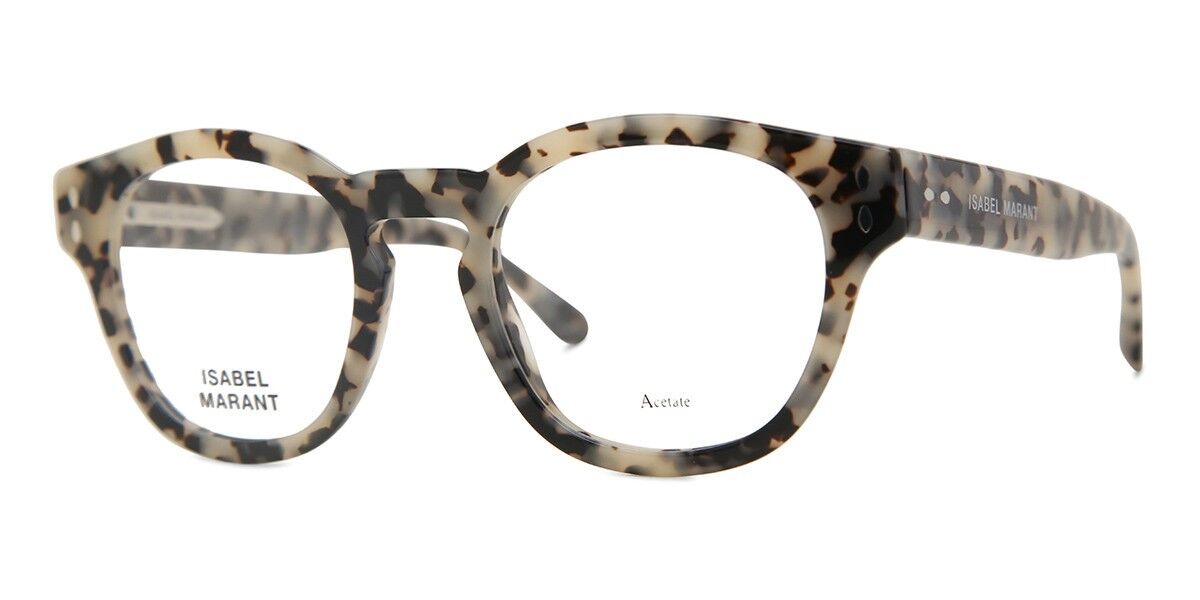 Who doesn't love classic cat-eye frames? Calling all oval-shaped faces to turn their attention to this creamy Havana pair of eyeglasses! Made with the finest Acetate material with customizable lens materials, you'll find a great match between your day-to-day outfits with a pair of Isabel Marant IM eyeglasses. A trendy but sturdy frame and high-quality lenses embedded with protective anti-glare and scratch-resistant coatings. Everyone will be asking where did you get such a chic pair of glasses and how they look so new even after a long time.
Let's dive right back into the 60s and relive an iconic Audrey Hepburn dressed all in white with a pair of vintage thick oval frames. With a pair of Isabel Marant IM, you'll be able to bring back this vintage look and change up your look for something fashionable. 
A style you can wear all year round for both your chill and party mode. 
Don't forget the high-quality UV filter to protect your eyes, not just from the sun but from your shine!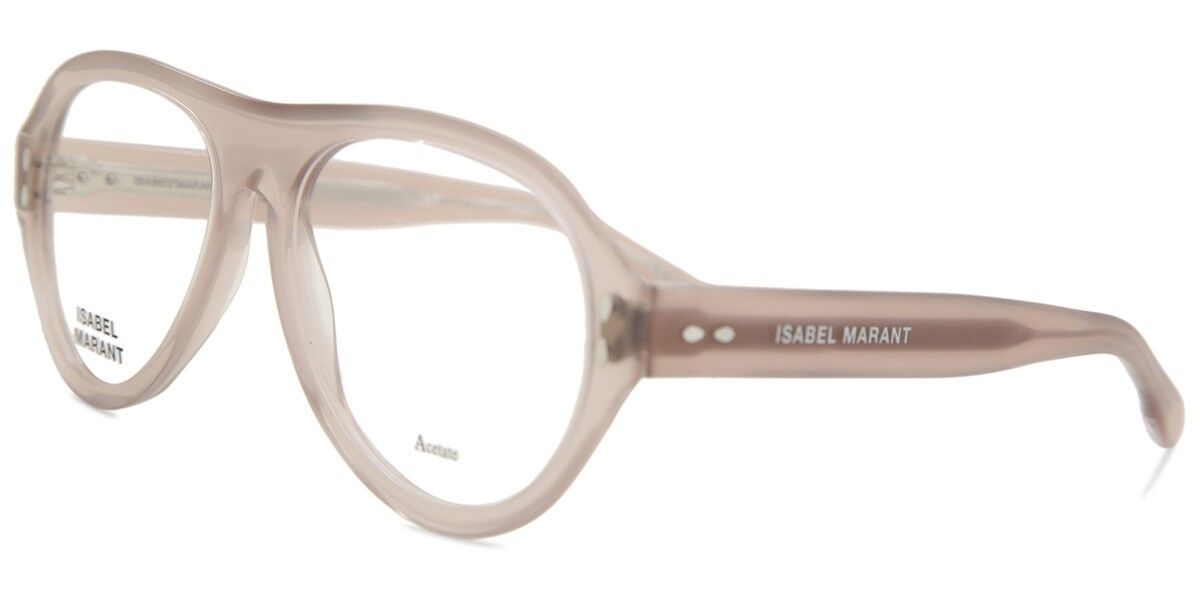 The classic pilot design combined with popular and in style translucent colors. What more could you ask for! With SmartBuyGlasses you'll always have the latest fashion and in-style eyewear trends of the moment. And the Isabel Marant collection is one of these! Change up your eyeglasses for this chic pair, made with Acetate which is lightweight and hypoallergenic. Glasses that will fit comfortably for any occasion.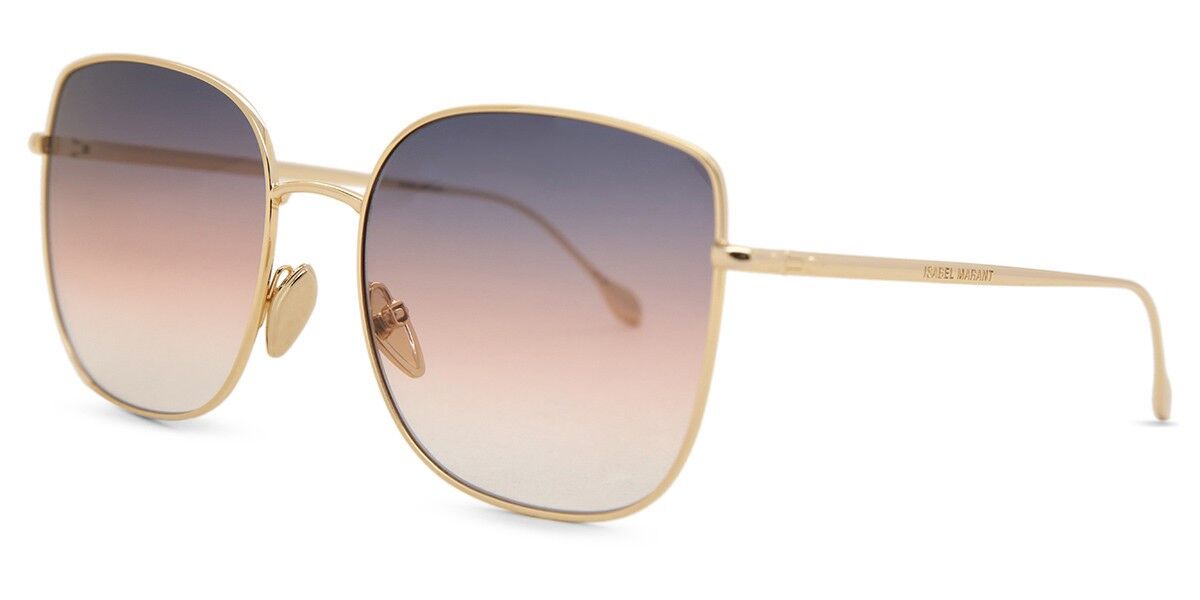 This pair of Isabel Marant IM gives off a chill and summery vibe. Imagine laying under the palm trees and admiring the ocean on a bright sunny day. A scene you'll be able to visually enjoy with a pair of UV filtered Isabel Marant sunglasses. If this pair doesn't give you a relaxing summer vibe with its Rose gold frames and gradient blue pink lenses, then we don't know what will. 

You'll believe it when trying it on virtually with the SmartBuyGlasses virtual-try-on tool. And don't forget to upgrade to a white sand beach background to get the full look.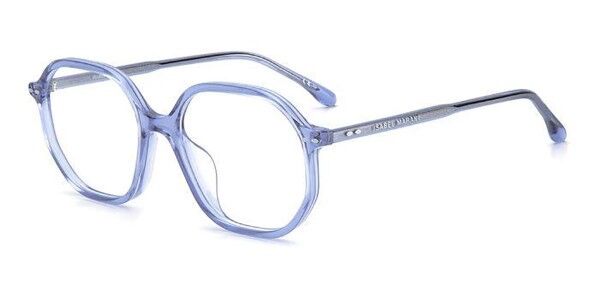 See, translucent color frames are in fashion. Combine them now with oval frames and choose between transparent blue, pink, and even a transparent tortoise. If you have a square face shape then these Isabel Marant IM may be what you are looking for. Are you also a modern professional who uses a computer often? Then why not combine this pair with zFORT® Blue light blocking and protect your eyes during all those Zoom calls.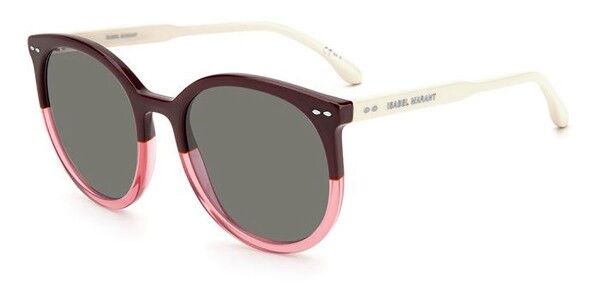 Ever find that you love more than one color and wish you could find a pair of glasses with 2 or more? We've found a great pair of square sunglasses for women to enjoy multiple colors all in one. This pair of Isabel Marant IM is a funky burgundy and pink with creamy white temples. The grey lenses make a great match with these colors and are fitted with a UV filter. Looking cool and stylish with a multi-color pair of Isabel Marant sunglasses.
Feel like a real Parisian with a boho-chic style
You can't get any cooler than this! If you are on the lookout for a unique, stylish, and fine-made pair of sunglasses or eyeglasses enjoy browsing through Isabel Marant's eyewear collection with SmartBuyGlasses. 
With SmartBuyGlasses you'll find trendy eyewear all fitted with great different shaped frames, colors, and lenses. Protective coatings include UV filters and blue light blocking, but you'll also find chic mirrored sunglasses with super cool gradient lenses. 
If you already wear glasses and are ready to jump into a shopping spree for Isabel Marant glasses you can use the SmartBuyGlasses lens scanner tool. By following the easy steps you can get your current prescription straight from your glasses and onto the app.
If you are curious to check out more brands to find cool trendy glasses for the whole family why not check out our Komono style guide and our blog for more fashion trends, like the best Transition lens collections. 
We don't just try to give you the best fashion advice but also give you as many informative resources about eye care through our Optical Center.
Sorry, we could not find the following product IDs in our database: 595269, 595251, 595265. Please check and use correct values.